Investor Relations
OneREIT (TSX: ONR.UN) is an unincorporated open-end real estate investment trust which focuses on owning and acquiring retail properties across Canada with the goal of enhancing long-term Unitholder value.
Portfolio highlights based on Q1' 2017 financial statements:
56 investment properties located in eight provinces and the Yukon Territory;
Approximately 7.0 million square feet of gross leasable area;
88.5% occupancy rate; and
$13.08 sq. ft. average net rent in place.
2016 Annual Report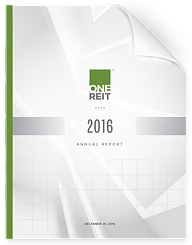 In 2016, a number of initiatives were implemented to help better position the future direction of OneREIT. In certain respects, 2016 marked a reflection of the changes we have executed over the past several years.
2016 Annual Report


Top 5 Tenants